Thank you to all of our 40th Annual 2016 Doddridge County Fair Sponsors.




We celebrate 40 years of Growth this year because of companies like you.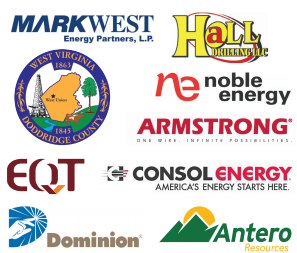 Antero Resources LLC
Armstrong
Consol Energy Inc.
Doddridge County Commission
Dominion Transmission, Inc.
EQT Corporation
Noble Energy, Inc.
Allegheny Surveys, Inc.
Ash Law Office
Birdseye Photography
Buffington Studio of Photography
CGP Foods Inc. – Shop 'n Save
Charity Gas, Inc. – Lowell & Sharon Bee
Cornerstone Bank
Doddridge County Senior Citizens
Doddridge County Fitness Center
Doddridge County Starting Points
The Fairview
Glenville State College
Harbert Funeral Home
J & J Flowers
Jenkins Auto Parts
Hall Drilling, LLC
I. L. & Betty Sue Morris
Infinity Photography
Larry's Western Shop
Lavish Boutique
MarkWest Energy Partners, LLC
McCullough-Rogers Funeral Home
Michels Pharmacy Inc.
Monster Heavy Haulers, LLC
Mutschelknaus Oil and Gas
Oliverios Boutique
Par Mar Oil Company
Pennsboro-Ritchie Memorials
Perkins Supply, Inc.
Queens Choice
Salem Colonial Pharmacy
Salem IGA
Sharon & Paul Weekley – 2010
Spurgeon Funeral Home
Star Furniture
State Farm Insurance- West Union
Slick's Car Wash & Laundromat LLC
Sunnyside Realty, L.L.C.
Tease Me Salon
The Crowning Touch
The New Salem Area Florist
The Thrasher Group, Inc.
Thrifty Car Wash & Storage
Town of West Union
University of Charleston
United Physicians Care, Inc.
West Union Bank
West Virginia Insurance Co.
Yabba Dabba Doos
Ace Home Center
Art by Crim
Batman's Trophies & Awards
Bridgeport Equipment
Buckeye Run Veterinary Clinic Inc.
Dennis Powell, Sr. & Dennis Powell, Jr.
Doddridge County CEOS'
Doddridge County 4-H Leaders
Association
Evans Excavation
The Herald Record
My Sister's House
Parc's Equipment
Avon Church
Big Isaac United Methodist Church
Liberty Baptist Church
Mt. Vernon Baptist Church
Pike Fork Community Church
South Fork Baptist Church
Special thanks to State Senator
Jeffery Kessler, and State Delegate
Roger Romine.