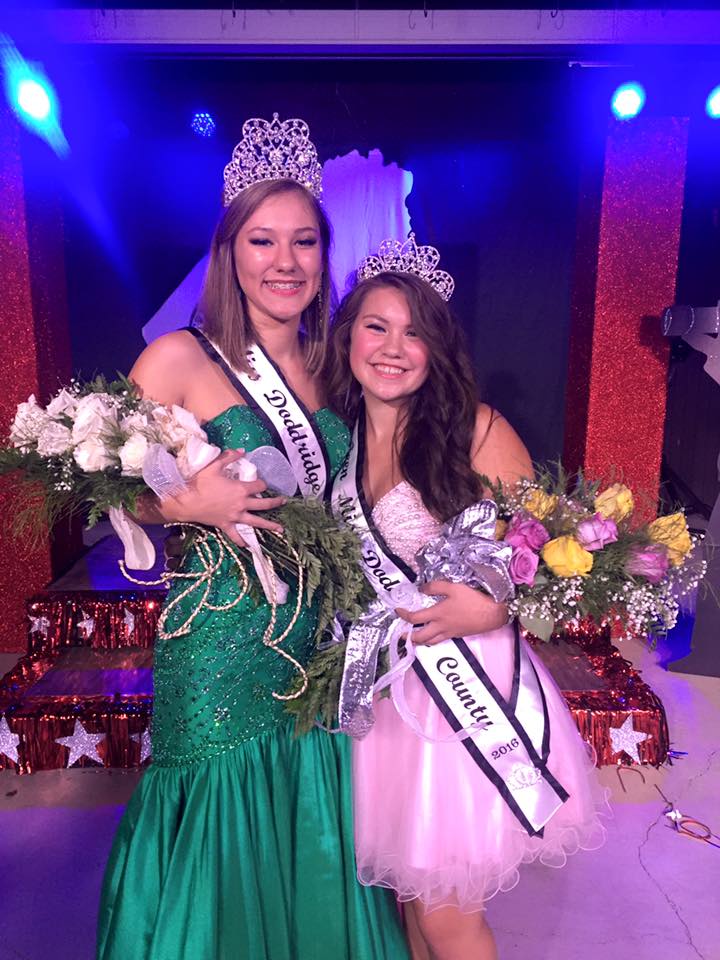 2016 Doddridge County Fair Queen Haleigh Lipscomb &
2016 Doddridge County Fair Junior Miss Hannah Heaster
The 2017 Doddridge County Fair Queen & Teen Pageant 
 will be held on Tuesday, August 22, 2017 at 7:00 PM
Congratulations on completing the first step towards becoming the 2017 Doddridge County Fair Queen and/or Teen Queen!  The Fair Board and Pageant Directors are very excited to have you represent Doddridge County on stage at the 2017 Doddridge County Fair. This year, the Teen and Queen pageant will BOTH begin at 7:30 PM. The Teen pageant will occur simultaneously with the Queen Pageant. Additionally, all contestants will undergo the "backstage interview" portion of competition (in addition to Evening Gown & Streetwear)!
We are proud to announce that the 2017 Fair QUEEN will receive an all expense paid trip to the WV Association of Fairs & Festivals Pageant held in Charleston in January 2018, a $1,000 cash scholarship to further her education and/or career, a clothing allowance, and potentially scholarships to in-state colleges and universities. Both title holders will receive various pageant boutique gift certificates (including Oliverio's, the Queen's Choice, and many more) toward an evening gown an appearance wear of her choice, a custom sash, a beautiful crown, and gift certificates to Tease Me Hair Salon. Plus, keep in mind, our prize package continues to grow as the pageant date approaches. We can't reiterate enough that this pageant is a great opportunity for local girls to find poise, confidence, and interview skills while vying for the opportunity to receive a great scholarship package and life experience.
If you have any questions about the Pageant, please don't hesitate to contact me via text, phone call or even via Facebook message.
Your directors,
 Gabrielle Mucciola.Esq.& Jordan Hill
(304)641-4587,  ashgabriellee@gmail.com